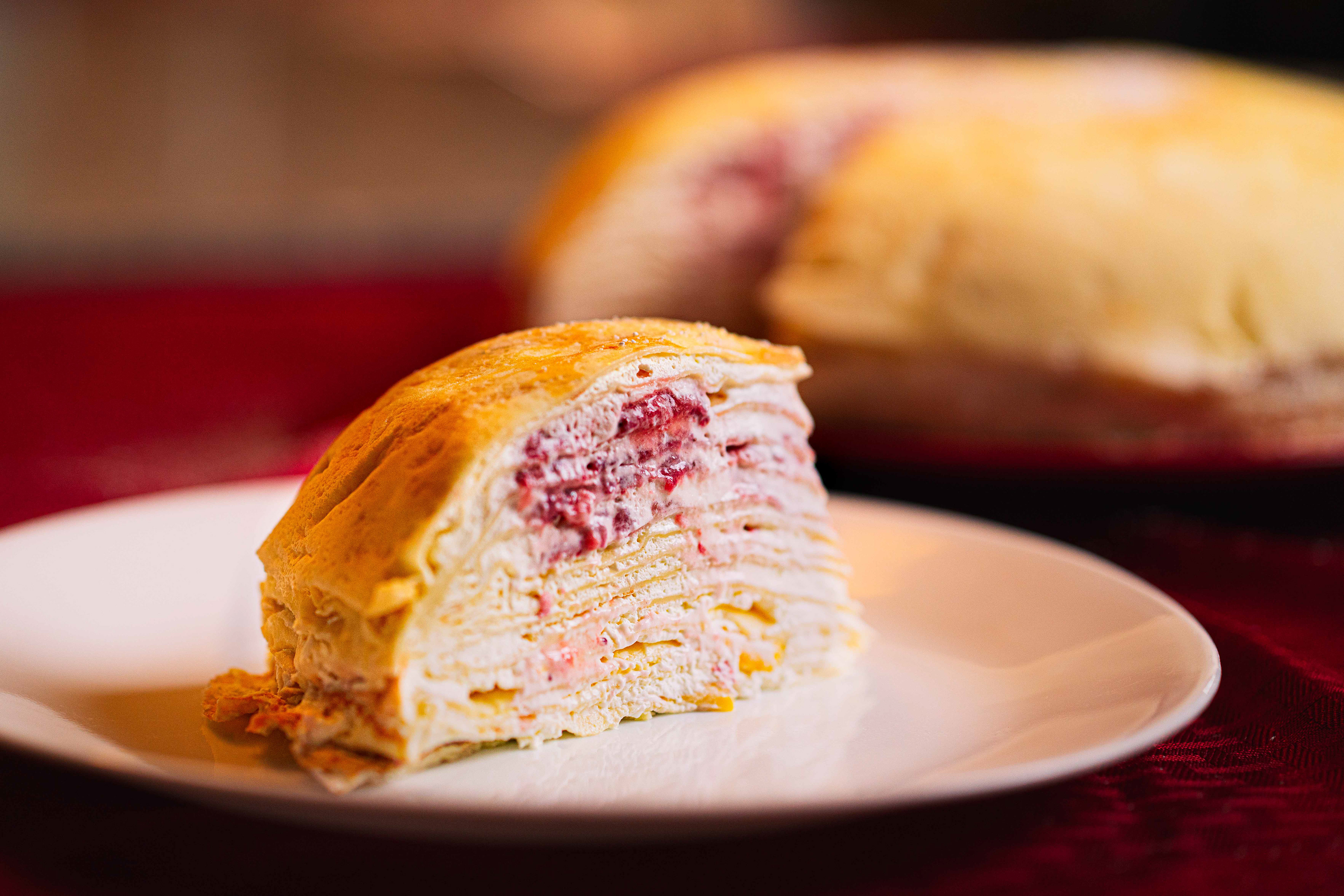 Anyone that  has ever been to a conveyor belt Sushi place, or convenience store has surely been tempted by this delicious dessert. Mille Crepes actually originate from France, but as I have not been there yet, this Japanese Crepe cake has our heart!
Making a crepe cake is simple
in terms of needed tools and ingredients, but takes a lot of time and some skill. (a great use of time for people enjoying quarantine to stay safe and healthy right now)
2. Cool Crepes and whip the cream.
3. Assemble the cake layer by layer in a bowl
4. Let the cake settle and cool for at least 2 hours in the fridge.
We first tried to make this around thanksgiving, when we first started dating, but we could not locate any whipping cream! We tried again at Christmas but again, the pie eating people did not allow us then. Finally, at the beginning of May, we have been able to make this, and we are so very happy about it. 
We had started making a video, but it ended up taking longer than we expected, and as dinner also needed to be made, we had to give that portion a rain check. We plan on finishing the video next time we make one, we will decide based on the interest that we receive. 
-  4 tablespoons butter, melted
-  2 cups all-purpose flour
-  4 tablespoons white sugar
-  Frying Pan (non-stick pan preferred)
1.
Beat eggs.
Beat eggs in a large bowl.
2.
Combine and Mix.
Combine with milk, flour, sugar, and salt. Mix well until there are no more chunks.
3.
Add butter and Mix again.
Add melted butter into batter and mix until smooth.
4.
Heat a pan.
Heat a large frying pan to medium heat. Grease with a little butter or oil.
5.
Pour batter and Tilt the pan.
Pour about ⅓ cup of batter into the pan and tilt the pan to cover the bottom surface.
6.
Cook.
Cook over medium heat for about 1 to 2 minutes.
7.
Flip the Crepe.
Flip the crepe over and cook on the second side for 30 seconds.
8.
Cool.
Cool crepes on a plate.
9.
Repeat the Steps.
Repeat until all of the crepe batter is used.
1.
Whip Cream.
Whip chilled whipping cream with sugar until very firm.
1.
Assemble A Cake.
Place first crepe on a plate and spread 1/3 cup of whipped cream on the crepe. Cover the crepe completely. Repeat this step until you used all crepes.
2.
Refrigerate.
Refrigerate cake at least three hours before serving.